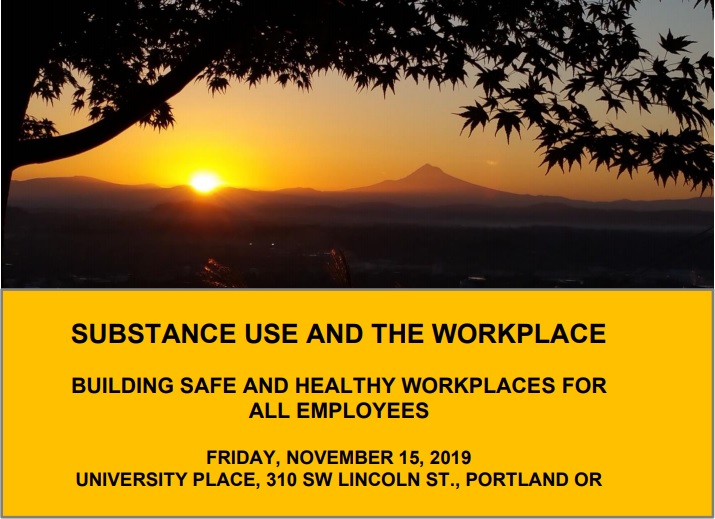 When:
November 15, 2019 @ 9:00 am – 4:00 pm
2019-11-15T09:00:00-06:00
2019-11-15T16:00:00-06:00
Where:
University Place Conference Center
310 SW Lincoln St
Portland, OR 97201
USA

Description:
This symposium will start by presenting the current knowledge regarding substance use (cannabis, alcohol, opioids, and other substances) and its impact on workplace safety and employee health. Building on the knowledge of these detrimental effects this symposium will also present innovative programs of workplace solutions for prevention and intervention. Our expert panel will propose ideas and tools that can help employees and organizations prevent and mitigate negative outcomes taking us from awareness to action.
Agenda – Friday, November 15, 2019 9 AM – 4 PM
9:00 – 9:15 AM Welcome
Charlotte Fritz, Ph.D., Associate Professor in Industrial/Organizational Psychology, Faculty, Occupational Health Psychology Graduate Training Program, Portland State University
9:15 – 10:15 AM Keynote Speaker: Update on the Nation's Opioid Overdose Epidemic from CDC/NIOSH
Casey Chosewood, MD, MPH, Director of the Office for Total Worker Health at the National Institute for Occupational Safety & Health (NIOSH)This timely update on the nation's opioid overdose epidemic will provide the latest surveillance trends and health impacts of the evolving opioid crisis.  L. Casey Chosewood, MD MPH, NIOSH's Total Worker Health® Director and a member of CDC's Opioid Response Coordinating Unit, will share emerging evidence of the epidemic's strong connection to workplace, working conditions and other worker issues, as well as disparities across industries and occupations, and other valuable insights for employers, occupational health psychologists and other OSH professionals. He will share the latest resources, policy approaches and workplace interventions critical to a successful workplace response to the opioid crisis.  Special attention to safety sensitive work, impairments associated with opioid use disorder, and return to work issues after treatment will be given.
10:15 – 10:30 AM Break & Network
10:30 – 11:15 AM Cannabis and the Workplace
Nicole Bowles, Ph.D., Research Assistant Professor, Oregon Institute of Occupational Health Sciences, OHSUDescription: Medical and recreational legalization of cannabis and cannabis derived products has not only led to increased use in recent years but a catalogue of products that vary in their potency and bioavailability. These newly available products (e.g., CBD drinks, high percentage THC wax for dabbing) have not been well studied and the consequences of habitual or long-term use remain unclear. Further, despite legalization in many states, recommendations regarding their cannabis-related policies are rarely updated and few provide accommodation for cannabis use as medicine. Dr. Bowles will provide a brief review of the potential impacts of cannabis and related products on health and draw insights and possible solutions for cannabis use in the workplace from newly legalized markets (e.g, Canada, Illinois).

Dr. Bowles graduated with her Ph.D. from Rockefeller University and went on to earn a master's in clinical epidemiology from Weill Cornell Medical College as a Health Disparities and Community Engagement Research Fellow. Dr. Bowles joined Dr. Shea's laboratory in August 2016 as a Ford Foundation Postdoctoral Fellow in order to examine the interplay between stress, endogenous circadian rhythms, and cannabinoid signaling in humans. Dr. Bowles became a Research Assistant Professor in February 2019. She is currently funded through Oregon Clinical and Translational Research Institute's NCATS KL2 program, NHLBI's PRIDE program, and the American Academy of Sleep Medicine's Young Investigator Award.

11:15 AM – 12:00 PM Employers, Employees and Users: Addressing drug use and drug use disorders in the workplace
Dennis McCarty, Ph.D.,  Professor OHSU-PSU School of Public HealthDescription: An overview of epidemiology of illicit drug use and drug use disorders among people in the workforce with attention to workers aged 18 to 25 as a group with elevated rates of drug use and a brief assessment of drug and alcohol use by industry category. The presentation continues with a discussion of workplace policies that can inhibit drug use and facilitate access to treatment services and the value of health plans that address alcohol and drug use disorders.

Dennis McCarty, Ph.D., a Professor in the Department of Public Health & Preventive Medicine at Oregon Health & Science University, works at the intersection of policy, research and practice assessing the organization, financing, and quality of prevention and treatment services for alcohol and drug disorders. He serves as the Director of the Education Core for the Methamphetamine Abuse Research Center (P50 DA018165), the co-Principal Investigator for the Western States Node of the National Drug Abuse Treatment Clinical Trials Network (U10 DA015815), and the Principal Investigator for an evaluation of the impacts of Oregon's Coordinated Care Organizations on prevention and treatment for alcohol and drug use disorders (R33 DA035640).  Dr. McCarty is the Academic Director for the University of Amsterdam's Summer Institute on Alcohol, Drugs and Addiction – a two week course that uses Dutch policy perspectives on drug use disorders to introduce the neuroscience, genetics, treatment and prevention of alcohol and drug use disorders.  Between 1989 and 1995, Dr. McCarty directed the Massachusetts Bureau of Substance Abuse Services for the Massachusetts Department of Public Health. Currently, he serves on the Oregon Alcohol and Drug Policy Commission and the Governor's Task Force on Prescription Drug Misuse and Abuse. He received a doctorate in social psychology from the University of Kentucky.

12:00 – 1:00 PM Lunch & Network (provided)
1:00 – 1:45 PM Managing Behavioral Problems In the Workplace: The Challenge of Substance Abusers
Jerry Gjesvold, Manager of Employer Services at Serenity Lane, OregonDescription: In my many years of assisting employers developing Drug Free Workplace Programs the most frequent mistake made is not adequately training supervisors on how to identify and intervene with employees who come to work questionably "fit to perform safely". The content will help employers identify "best practices" in reducing these risks and help identify the most important skills needed by the supervisors to promote a safer workplace.

Jerry has been a consultant and trainer for companies on the west coast since 1983. He is currently Manager of Employer Services with Serenity Lane Health Services, where he has been employed since 1979. Jerry specializes in matters of policy and procedures related to the management of alcohol and other drug problems in business and industry. He is a popular public speaker who weaves his own personal experience of addiction and recovery into his presentations. He has a bachelors degree from the University of Oregon and has done graduate work there in health education. Jerry served for 16 consecutive years (from 1998 – 2004) on the Oregon Governor's Advisory Committee on DUII Legislation. He writes a monthly column for a Eugene newspaper on alcohol and drug related topics and is a regular guest on KPNW radio.

1:45 – 2:30 PM  Community Initiatives: Supporting Families with Prevention and Recovery Resources
Pam Pearce, Co-Founder – Family Inspired Recovery and Oregon Recovery High School Initiative/Harmony Academy, Community Organizer – Community Living AboveDescription: The whole family feels the effects of a substance use disorder (SUD). The family unit holds information about how SUDs develop, are maintained, and what can positively or negatively influence the treatment and recovery of the disorder.  It's imperative to recognize the individual in relations to his or her family environment because each family member is uniquely affected by the individual using substances.  SUDs are manageable, and recovery is possible when the individual and family have the support they need to thrive. Prevention is the cure, but until we understand what real prevention is, prevention needs to be knowing where to go for help.

Pam Pearce is a wife, mother, and a person living in long-term recovery (24 years). She wants all to know that hope and healing are possible. She leads Community Living Above, an organization that provides prevention education, access to support resources, and peer-to-peer encouragement. Over the years, Pam has been a contributor and prevention resource for online prevention and recovery sites and has shared her personal experience in recovery and as a prevention leader on blogs and through speaking engagements. She is a member of the following groups/councils: Clackamas County Prevention Coalition, Mental Health and Addiction Council for Clackamas County, an Advisory Committee member for Clear Alliance, a member of the Prescription/Opioid Taskforce (RxOT) Youth Initiative, and a participant in the national group The Communities Project. Most recently, Pam co-founded two new projects that will serve teens and their families. The first is Family Inspired Recovery, an Alternative Peer Group model. FIR is a community of families growing and healing from the effects of teen substance use and other high-risk behaviors.  The other organization Oregon Recovery High School Initiative, a coalition of recovery advocates, educators, health system professionals, and business leaders committed to launching the first recovery high school, Harmony Academy in Oregon for students impacted by substance use disorders.   Both organizations are the first of their kind in Oregon.

2:30 – 2:45 PM Break & Network
2:45 – 3:30 PM Panel, Q & A with all presenters
Facilitated by Charlotte Fritz, Ph.D., Associate Professor in Industrial/Organizational (I/O) Psychology, faculty member within the Occupational Health Psychology (OHP) Graduate Training Program, Portland State University
3:30 – 3:45 PM Final Comments and Adjourn
Registration Fees (includes breakfast, lunch, refreshments and parking). Online registration will open September 15, 2019.
$60 – By November 12, 2019
$30 – Reduced fee (Oregon government agencies – city/county/state; educational institutions; labor unions; companies with fewer than 25 employees; non-profit organizations; students) (must register online not register at door day of).
$20 – Live webinar attendee
Please note: Cancellation policy posted with online registration details.
Parking passes will be provided through your registration, although, as always we encourage you to use public transportation, carpool or other alternative and healthy modes of transportation.
Online Registration now Open: Register Now