Jun
8
Mon
Agricultural Safety and Health: The Core Course

@ Online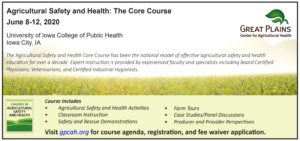 The Agricultural Safety and Health Core Course has been the national model of effective agricultural safety and health education for over a decade. Expert instruction is provided by experienced faculty and specialists including Board Certified Physicians, Veterinarians, and Certified Industrial Hygienists.
The virtual course will be held during the regularly scheduled week, June 8-12, 2020.
Course Includes

Agricultural Safety and Health Activities
Classroom Instruction
Safety and Rescue Demonstration Videos
Farm Tour Video
Case Studies/Panel Discussions
Podcasts
Producer and Provider Perspectives
Intended Audience: Appropriate for safety and health managers, graduate students, nurses, physicians, veterinarians, and anyone interested in the special health and safety needs of rural and agricultural communities.
Continuing Education: Continuing Education Credit for physicians, nurses, veterinarians, and EMS personnel has been approved, as well as General Continuing Education Units. A certificate of completion will be provided following the course. Please see course brochure for specific continuing education information.
Training Director: Diane Rohlman, MA, PhD, Associate Professor, Department of Occupational and Environmental Health, University of Iowa, College of Public Health.
Registration Fee
Due to the necessary change in presentation format, the course fee has been reduced to $250. Please note that pre-registration is required and registration closes on Thursday, June 4th.
Full Week $250
Refund Policy: If circumstances arise and you are unable to attend, please notify us of your registration cancellation by Thursday, June 4, 2020. You will be reimbursed $100.
Course Fee Waiver
Course registration fee waivers are available for the Great Plains Center for Agricultural Health Agricultural Safety and Health Course, June 8-12, 2020. With support from Iowa's Center for Agricultural Safety and Health and the University of Iowa's Endowed Chair in Rural Safety and Health, we are pleased to provide a limited number of waivers, awarded on a rolling basis. In previous years, up to 5 applications per year have been funded.
Send your completed application, with one-page resume or CV, to:
Kay Mohling
Agricultural Safety and Health Course Coordinator
UI Research Park, 202 IREH
Iowa City, IA 52242-5000
kay-mohling@uiowa.edu
Jul
16
Thu
MOCAN Conference 2020: Building a Healthy & Productive Missouri Workforce

@ Drury Plaza Hotel
Description
The Missouri Council for Activity and Nutrition (MOCAN) will host a 2020 conference centered on "Building a Healthy and Productive Missouri Workforce". This conference will raise awareness of the connections between community health status and workforce development at local, regional, and statewide levels. Workplaces are an essential piece to every community operating system. Whether it be hospitals, schools, or local industries, workplaces are an everyday destination for community members and research demonstrates that a supportive and healthy work environment not only has positive health impacts among employees but also improves productivity. No matter the size, businesses and employers play a vital role in a community health system. Our conference will identify opportunities to improve workforce health for a diverse range of Missouri businesses, and provide networking opportunities and resources to help businesses establish or improve worker health and productivity.
What's on the agenda?
· Exploring and applying practical tools to improve and promote healthy workplaces
· Introducing worker health across the lifespan
· Reviewing comprehensive investment strategies
· Addressing job stress, burnout, and mental health
· Panel discussion with awarded wellness programs in Missouri
Recognizing the 2020 Missouri WorkWell Awardees – organizations can apply by March 1st
Who should attend?
Missouri professionals interested in supporting and improving employee health and productivity.
· Employers, wellness coordinators and HR professionals for schools, hospitals or local businesses
· Those attending the MOAND conference on April 17th in Columbia
· Four hours of continuing education units (CEUs) are expected for dietitians, nurses, society of human resource management (SHRM) and certified health education specialist (CHES) professionals
Cost:  $95/attendee. Limited space available!

A special thanks to our conference sponsors!
Interested in sponsoring?  Email mocan@missouri.edu.
Health Forward Foundation
Freeman Health System
MOCAN Worksites Workgroup
Lodging: Drury Plaza Hotel Columbia East   Reservations at 1-800-325-0720 or www.druryhotels.com.
Use the group number of 2372133. Group rates are not guaranteed after March 14th.
Conference Contact:   Sherry Davisson, davissons@missouri.edu, 573-882-2184
Jul
29
Wed
BHC Spring Forum: Mental Well-being in the Workplace

@ Donald Danforth Plant Science Center
Registration and Light Breakfast: 7:30 AM
Event Program: 8:00 AM to 12:00 PM
Venue: Donald Danforth Plant Science Center
Address: 975 N. Warson Road, St. Louis, MO 63132
The BHC Spring Forum is a community-based event, convened to closely exam new trends and developments affecting the St. Louis health care and wellness markets. This year's event will focus on the topic of mental well-being and opportunities for employers to support their workforce with innovative strategies and solutions to increase awareness, decrease stigma, and create a culture of health.
Registration Here:
BHC Members: $10.00
Non-BHC Members: $20.00