Feb
25
Thu
2021 East Central Iowa Safety and Health Conference

@ Online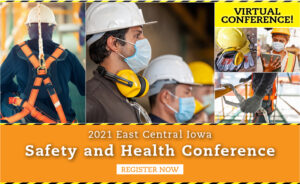 The 2021 East Central Iowa Safety & Health Conference is going virtual!
Join us on February 25, 2021 via Zoom. We do not have to tell you that safety has changed over the past year in Eastern Iowa. We are offering topics that we hope will provide guidance on, or reinforce, what you are already doing to protect your employees. These include relevant subjects such as mental health, drug testing, perceptions of danger, and answering the big question of "What Happened to Safety in 2020?"
The virtual conference will start at 7:30am and conclude at 1:00pm.
To sign up, register online or call 319-398-1022.