 The Healthier Workforce Learning Network (HWLN) was an education, translation, and dissemination project that began in 2006 utilizing state-of-the-art communications technology to provide cost-effective dissemination of information about approaches to integrate health promotion and health protection.
From 2006-2012, the HWLN sponsored 26 seminars, 5 National WorkLife Forums, 3 Iowa WorkLife Forums and over 12 webinars on issues related to health promotion and health protection in the workplace including comprehensive tobacco cessation programs, integrated workplace health promotion and health protection programs, and safe patient lifting programs.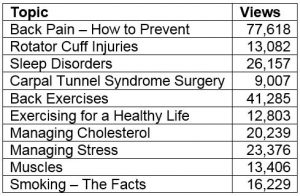 In addition, the Center offered tutorials through the Patient Education Institute addressing WorkLife/Total Worker Health® topics with a reach of over 250,000 viewers. While the number of views was high, it was not addressing employers or academics and only reached one type of intermediary. Furthermore, it requires a subscription and the sole audience of the Patient Education Institute is healthcare organizations to provide them with resources for patient care. 

These initial forums indicated that online web-conferencing technology is a promising mechanism for reaching small- and medium-size workplaces in Iowa, where the Iowa WorkLife Forums alone, reached employers in more than 30 communities. Through the Network, a list of over 1,000 key contacts of Iowans interested in workplace health and safety was created. The HWLN project evolved into the Small Business Outreach project which currently utilizes a monthly eBulletin for sharing evidence- and practice-based promising practices on issues relevant to Total Worker Health. Throughout 2016, the Network will be used to disseminate a series of videos and web-based educational modules to promote the adoption of Total Worker Health policies, programs, and practices among small employers. Join the Network by subscribing to our monthly eBulletin.