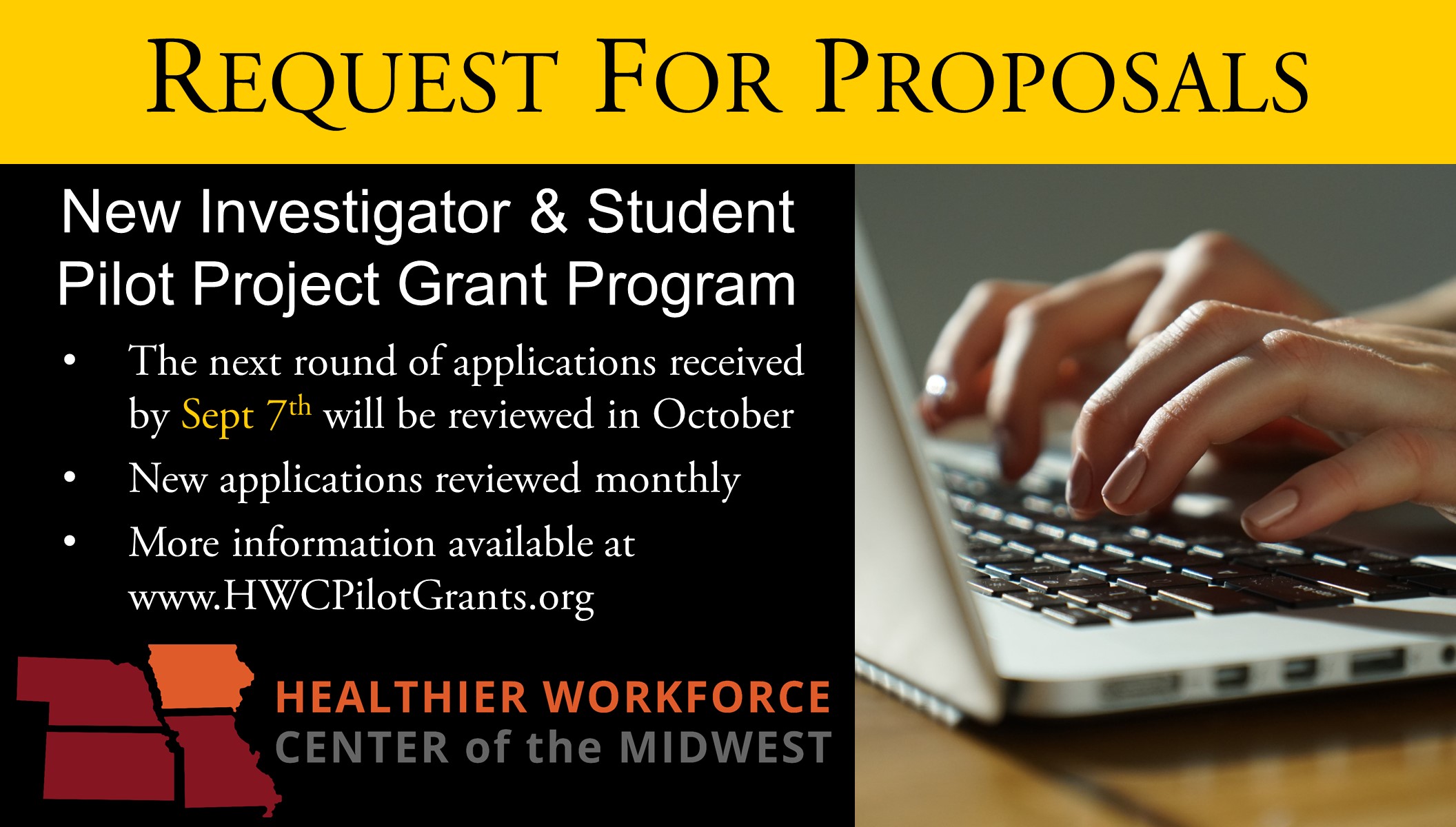 The Healthier Workforce Center of the Midwest (HWC) at the University of Iowa and Washington University is pleased to announce the availability of funds for New Investigator and Student pilot projects.
The HWC is one of six Total Worker Health® (TWH) Centers of Excellence funded through the National Institute for Occupational Safety and Health (NIOSH). The HWC is dedicated to protecting and preserving worker safety and health through knowledge generation and dissemination of evidence-based TWH practices. As a regional Center, the HWC serves the occupational safety and health needs of employees and employers in HHS Federal Region VII (IA, NE, KS, MO). NIOSH defines TWH as "policies, programs and practices that integrate protection from work-related safety and health hazards with promotion of injury and illness prevention efforts to advance worker well-being." Topics relevant to TWH include improving work organization, assessing the contribution of occupational stressors to the burden of chronic health conditions among employees (e.g., obesity, cardiovascular disease, and depression), optimizing return to work outcomes, and injury/illness prevention strategies among populations particularly at-risk for adverse health outcomes (e.g., older/younger workers, immigrant workers, and those with part time or precarious employment arrangements).
Additional resources and information can be found using the following links:
NIOSH Office for Total Worker Health: https://www.cdc.gov/niosh/twh/
NIOSH Center for Productive Aging and Work: https://www.cdc.gov/niosh/topics/productiveaging/
NIOSH Healthy Work Design and Well-being Program: https://www.cdc.gov/niosh/programs/hwd/
NIOSH Future of Work Initiative: https://www.cdc.gov/niosh/topics/future-of-work/default.html
Funding
Availability of funds for these proposals is conditional on continued funding of the HWC by NIOSH.
Funding is available for the usual categories of NIH grant direct costs, such as salary and fringe for research assistants and graduate students, laboratory supplies, equipment, data analysis, and travel associated with executing the research. However, salary and fringe support for faculty is not allowed, and no meeting/conference travel can be covered.
Investigators are strongly encouraged to contact Mindy Sickels Sterbenz (mindy-sickels@uiowa.edu; 319-335-4411) for guidance in preparing budgets.
For New Investigator proposals, the maximum permitted budget is $30,000 (direct plus indirect). We anticipate funding at least three New Investigator awards.
For Student proposals, the maximum permitted budget is $5,000 (direct plus indirect). We anticipate funding at least four Student awards.
Deadlines and Review Process
With this RFP, the HWC is adopting a rolling submission and review process. We will accept complete applications at any time (see Application Content in the full RFP, for details and submission instructions).
The first review of applications received in response to this RFP will occur on March 2, 2020. To be included in the first review, applications must be submitted by close of business on February 3, 2020.
Starting February 3, 2020 and while funds remain available, applications received by the first Monday of each month will be reviewed on or about the first Monday of the subsequent month. As examples:
Applications received between February 4, 2020 and close of business on March 2, 2020 will be reviewed on April 6, 2020.
Applications received between March 3, 2020 and close of business on April 6, 2020 will be reviewed on May 4, 2020.
Applications received between April 7, 2020 and close of business on May 4, 2020 will be reviewed on June 1, 2020.
Starting March 2, 2020, the status of funding availability and this RFP will be updated regularly on the HWC website (https://hwc.public-health.uiowa.edu/).
Pilot project grant applications will be evaluated by internal and external HWC Advisory Committee members and others with the appropriate scientific expertise. Reviewers follow procedures similar to those used by federal scientific review panels (see http://grants.nih.gov/grants/guide/notice-files/not-od-09-024.html) and consider relevance of the proposed project to TWH, originality, scientific quality of the approach, the potential for future funding, and the appropriateness of the budget. A written critique will be provided to the principal investigator of each pilot grant application, regardless of funding decision.
For more information, please download the Request For Proposals pdf.