 The Small Business Outreach Project is dedicated to sharing the experiences of small and mid-sized businesses in Iowa and Nebraska that have successfully implemented health, safety, and well-being programs for their employees.
We encourage the adoption of evidence-based practices that result in healthier employees (and their families), fewer injuries, less absenteeism and underperformance, reduced employee turnover, and better return on investment. We also study ways to speed the dissemination and translation of these successful programs and practices to other small and mid-sized Iowa businesses across all business sectors.
Total Worker Health Video Series for Small Businesses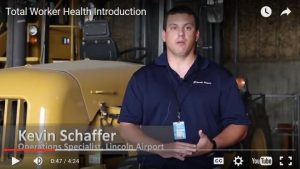 As part of the center's education translation/small business outreach project, a series of short videos (~3-7 minutes) were developed to assist professionals in small Midwestern businesses identify and implement "best and promising practices" for improving worker health and wellbeing. Utilizing a peer-to-peer model, the videos focus on case studies from small business (<250 employees) that have adopted best practices and shown innovation, with the goal of persuading and instructing other small businesses on how to implement a total worker health program. Video content comes from site visits with workplaces that have been recognized for having exemplary health protection and/or health promotion programs. Interviews were coded using a combination of the NIOSH Essential Elements and supplemented with criteria used to assess best practices and worksite assessments to identify key themes for the site visits.
This project provides first-hand experience in developing, implementing and evaluating case-study videos related to health promotion and health protection topics. It will further examine how a series of tutorial videos can facilitate the adoption of integrated workplace health promotion/health protection activities among small employers. Videos were widely disseminated through the Healthier Workforce Learning Network and multiple communication channels including the HWCE website, monthly bulletin, social media channels, presentations and conferences.
Total Worker Health® Essentials Videos
In a series of 8 short videos, business industry leaders share their experiences with designing, implementing and evaluating Total Worker Health programs, practices and policies. The series is designed to help small businesses utilize innovative techniques to incorporate programs, practices and policies that can be tailored to their workplace.
Total Worker Health® In-Depth
View experts from academia and industry leaders from small Midwestern businesses as they share their expertise, tips and experiences on issues relevant to Total Worker Health. Stay tuned for new videos.