 Defining Element #1: Demonstrate leadership commitment to worker safety and health at all levels of the organization
Individuals at all levels of an organization must be committed to worker safety and health in order for integrated Total Worker Health® initiatives to be successful. Mid-level managers link workers to the upper management; often regulating employee participation in programs.
The Essential Elements for Total Worker Health (TWH) has recommended three primary steps to develop organizational culture and leadership.
Develop a "Human Centered Culture". Policies and programs should promote respect and encourage participation, input, and involvement from all individuals across the organization.
Demonstrate leadership
Engage mid-level management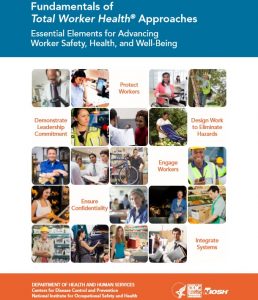 Now, through the Fundamentals of Total Worker Health® Approaches, NIOSH has recommended additional steps to engage organizational leaders. Several of their recommendations are listed below.
Encourage top leaders to
Openly support and participate in workplace safety and health initiatives.
Add safety- and health-related standards into performance evaluations.
Build safety and health into the organization's mission and objectives.
Establish a mechanism and budget for acting on workforce recommendations.
Encourage mid-level management to
Recognize and discuss the competitive advantage (e.g. recruitment, retention, employee satisfaction, community engagement and reputation, and workforce sustainability) that TWH brings to the long-term sustainability of the organization.
Highlight examples of senior leadership's commitment to TWH.
Provide training on how managers can implement and support Total Worker Health–aligned approaches, such as those related to work-life balance.
Encourage managers to
Prompt workers to provide feedback on work conditions and work collaboratively with them to make changes.
Encourage and reward team leaders and employees who take the initiative to improve work processes, reduce work stress, or improve the quality of work life.
Provide recognition for achieving goals or meeting benchmarks in safety and health.
Emphasize that shortcuts or production demands must not compromise worker safety and health.
Resources:
Video: Management & Employee Involvement
Printable Guidelines: SafeWell Practice Guidelines, Chapter 1: Providing the Foundation