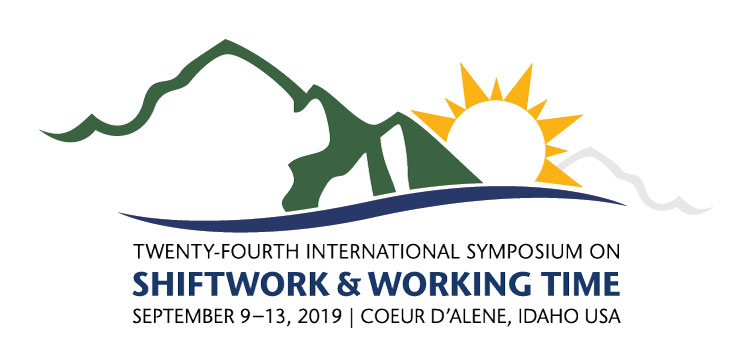 When:
September 9, 2019 – September 13, 2019
all-day
2019-09-09T00:00:00-05:00
2019-09-14T00:00:00-05:00
Where:
The Coeur d'Alene
115 S 2nd St
Coeur d'Alene, ID 83814
USA

Innovations in Research and Practice Improving Shiftworker Health & Safety
The International Symposium on Shiftwork and Working Time provides a welcoming setting for scientists, researchers, practitioners, trainees, and other stakeholders concerned with shiftwork and working time organization to come together, network, and collaborate. Symposium participants from across the globe present the latest research on shiftworker alertness, safety, health, and well-being, debate recent developments in working time arrangements and policies, and discuss fatigue risk management and health intervention solutions.
We are pleased to host the 24th International Symposium on Shiftwork & Working Time (Shiftwork2019) in Coeur d'Alene, Idaho, USA. This marks only the second time in its 50-year history that the conference will be in North America. From September 9 to 13, join shiftwork and working time professionals from around the world, coming together to discuss the meeting theme: "Innovations in Research and Practice Improving Shiftworker Health & Safety."
The conference is designed to foster a sense of community and provides ample networking opportunities. By staying together at the same location, participants interact during meals, breaks, and social events. In addition, the meeting program includes an Early Career Researcher event, and encourages the development of a new cohort of experts in the field through intensive interactions between established researchers and practitioners and attending students and trainees.
Rich in both science and networking opportunities, the meeting will feature over 70 presentations and scores of posters. See the Program tab for more information. Peer-reviewed abstracts of presentations and posters from the meeting are published in the journal Sleep Science. Following the meeting, attendees will be invited to submit papers for the conference proceedings, which will be published in a special supplement of the peer-reviewed journal Chronobiology International.