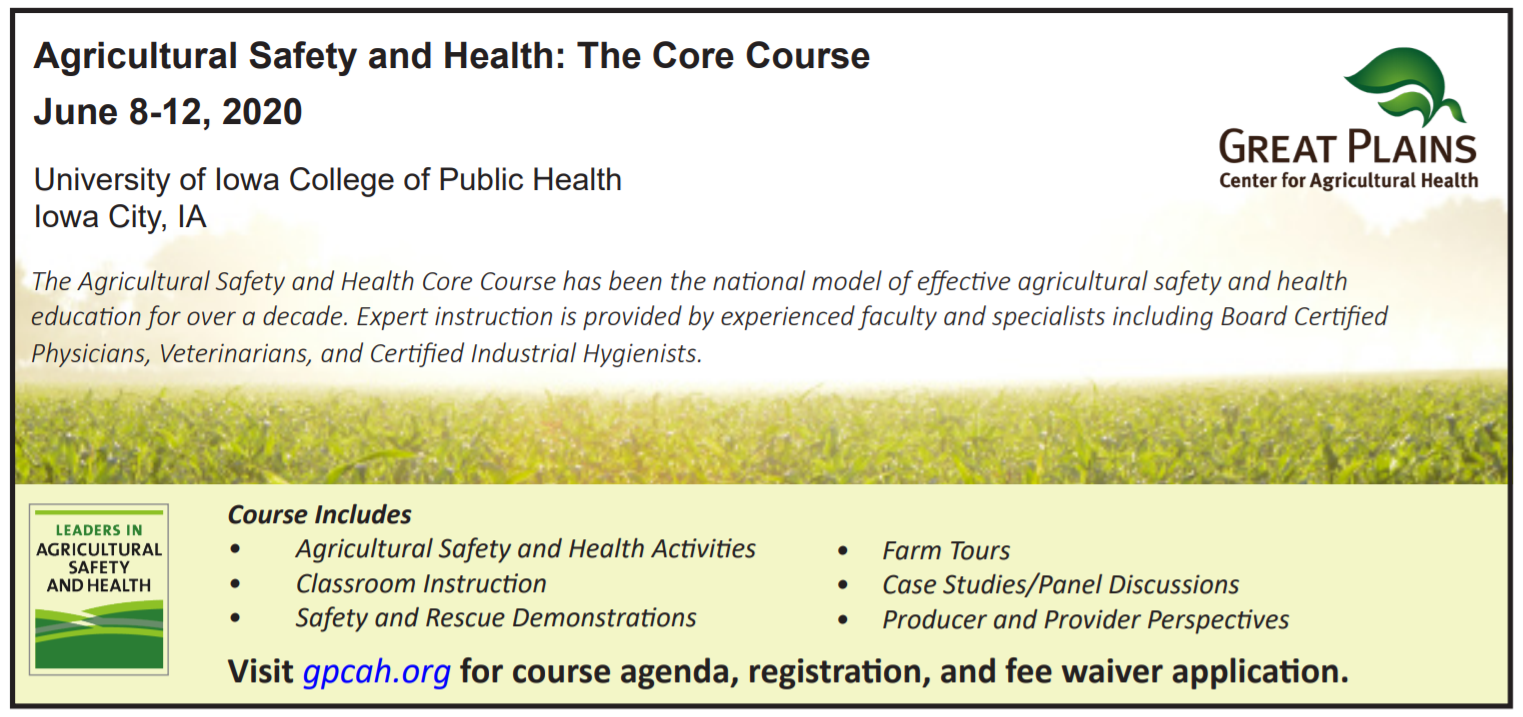 When:
June 8, 2020 – June 12, 2020
all-day
2020-06-08T00:00:00-05:00
2020-06-13T00:00:00-05:00
Contact:
Great Plains Center for Agricultural Health
The Agricultural Safety and Health Core Course has been the national model of effective agricultural safety and health education for over a decade. Expert instruction is provided by experienced faculty and specialists including Board Certified Physicians, Veterinarians, and Certified Industrial Hygienists.
The virtual course will be held during the regularly scheduled week, June 8-12, 2020.
Course Includes

Agricultural Safety and Health Activities
Classroom Instruction
Safety and Rescue Demonstration Videos
Farm Tour Video
Case Studies/Panel Discussions
Podcasts
Producer and Provider Perspectives
Intended Audience: Appropriate for safety and health managers, graduate students, nurses, physicians, veterinarians, and anyone interested in the special health and safety needs of rural and agricultural communities.
Continuing Education: Continuing Education Credit for physicians, nurses, veterinarians, and EMS personnel has been approved, as well as General Continuing Education Units. A certificate of completion will be provided following the course. Please see course brochure for specific continuing education information.
Training Director: Diane Rohlman, MA, PhD, Associate Professor, Department of Occupational and Environmental Health, University of Iowa, College of Public Health.
Registration Fee
Due to the necessary change in presentation format, the course fee has been reduced to $250. Please note that pre-registration is required and registration closes on Thursday, June 4th.
Full Week $250
Refund Policy: If circumstances arise and you are unable to attend, please notify us of your registration cancellation by Thursday, June 4, 2020. You will be reimbursed $100.
Course Fee Waiver
Course registration fee waivers are available for the Great Plains Center for Agricultural Health Agricultural Safety and Health Course, June 8-12, 2020. With support from Iowa's Center for Agricultural Safety and Health and the University of Iowa's Endowed Chair in Rural Safety and Health, we are pleased to provide a limited number of waivers, awarded on a rolling basis. In previous years, up to 5 applications per year have been funded.
Send your completed application, with one-page resume or CV, to:
Kay Mohling
Agricultural Safety and Health Course Coordinator
UI Research Park, 202 IREH
Iowa City, IA 52242-5000
kay-mohling@uiowa.edu