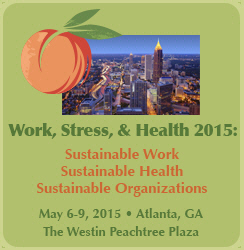 Work, Stress and Health 2015: Sustainable Work, Sustainable Health, Sustainable Organizations
May 6-9, 2015 in Atlanta, GA
This conference covers numerous topics of interest to labor, management, practitioners and researchers, such as work and family issues, new forms of work organization, changing worker demographics, best practices for preventing stress and improving the health of workers and their organizations. Proposals are now being accepted until October 6, 2014. More information here.